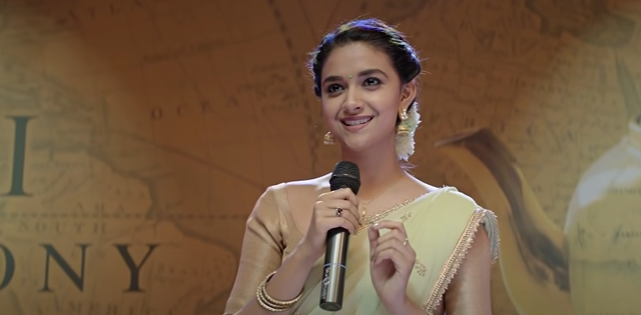 Director: Narendra Nath
Music: S. Thaman
Cast: Starring Keerthy Suresh as the lead, Nadhiya, Naveen Chandra, Jagapathy Babu, Rajendra Prasad, Sumanth Shailendra
The movie is currently streaming on Netflix in Telugu, Tamil and Malayalam.
National Award winner Keerthy Suresh did not predict this unappetizing story coming her way. The plot of the movie is all about the success story of Miss India right from the start.
Keerthy Suresh as Manasa Samyuktha is portrayed as an audacious and competent young girl who believes that she was born to do business right from her childhood, while she is constantly shut off from the idea by her family and her circumstances.
The female lead's business dream starts in her childhood when she makes a promise to her grandfather that she'll make his ideas famous. The following scenes are all about the tragedies of the family.
So Keerthy's family decides to move from India to the USA after the series of pathetic events, but being completely dependent on her brother's job for support. The M.B.A graduate then becomes determined to kick start her business dream and moves out of the house.
She plans to develop Miss India, a chai company as an established brand in competence to USA's leading coffee chain "KSK" owned by Jagapathi Babu.
The movie describes the USA as being new to the idea of chai, but in reality chai already exists in most parts of the country.
Easy investors and smooth business start already make the movie surreal. Men trying to work their charm on Keerthy as she rejects them and continues to pursue her business dream. Men are only used as characters that support the lead in time of need and then disappear, like how female leads have been portrayed in movies all these years.
In no time (2 months) Keerthy's Miss India becomes an equal to KSK in the US market and she becomes a popular entrepreneur in the country and is constantly under the focus of the media.
The scenes and the game plans of both the parties are easily predictable and you can always write down what comes next. Repetitive dialogues and explaining business strategies to the audience from scene to scene makes it all weary and dreary.
Cliché dialogues and back to back advice are a major disadvantage to the film however Keerthy Suresh carries the entire movie on her shoulders with her elegance but the plot became even heavier and ditched her.
Experienced actors Rajendra Prasad, Naresh and Jagapathi Babu have best justified their roles, but their characters have limited scenes.
Nonetheless the movie might give inspiration to women who think they can't achieve their goals in life to take a step forward and daringly get down and start working on them.
But this herbal tea has no medicine for your boredom.