Oviya Helen is an Indian Model and works in Tamil film industry.
Date of Birth: 29th April, 1991.
Birth Place: Kerala.
Famous Movies: Kalavani 2010. (Tamil – Comedy film)
Oviya is the one of the participants in Tamil reality show called "Bigg Boss" 2017 in Star Vijay TV, the show hosted by UlagaNayagan Kamal Haasan (Aandavar).
She was hated by all her house mates in Bigg Boss Show, but she was loved by millions of heart who are watching the Bigg Boss Tamil. She made her cute expression like
Talking alone to camera " Thirumbiko! Ilanaa, Naan Spray Adichiduven…!!! "
Fight with House mates Sakthi, Gayathri and Julie – " Neenga ShutUp Pannunga…!!!"
Tongue Twister game conducted in Bigg Boss Tamil, leader Snehan was a tamil poet. She sang it infront of camera and made audience felt melt on her expressions with Oviya's dance movement, –  "Kokku netta kokku netta kokku itta mutta katta mutta… Blah blahh…"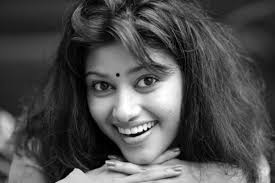 For more Kollywood updates, Please stay tuned to www.kollywood.co